Employers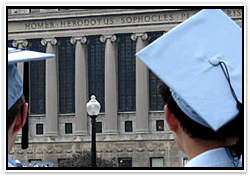 Dear Esteemed Employers:
We are pleased that you are interested in recruiting from our program.
Columbia's program in Chemical engineering is one of the oldest in the country, and is home to undergraduate and graduate students studying under some of the top researchers and contributors in the field. The program equips students with technical expertise that will contribute to successful careers in a variety of industries including chemical engineering, business, management, finance, law, medicine or education.
We urge you to engage with the Department in establishing professional initiatives including recruiting and internship programs, information sessions, research seminars, etc. The Chemical Engineering department looks forward to building a mutually beneficial partnership with your company. Thank you for your time and consideration.

Please contact Irina Khenkin directly at:
Recruiting